PRESCHOOL MINISTRY (Birth - 4 years)

The Preschool Department exists to:
Provide a safe and caring environment permeated by the love of Christ.

Nurture the faith of each child placed in our care.

Leave parents confident in our child care so that they are free to worship and study.

Preschool Age Divisions for Sundays
(Sunday School and AM Worship)
Nursery Room- (Room #A101) This room is for newborn babies up to the time that they begin walking.
1's Room- (Room #A102) This room is for toddlers up until the time they are promoted to the 2 year old Sunday School Class.
2's and 3's Room- (Room #A104) This room is designed for children who are 2 or 3 by September first.
4's Room- (Room A105) This room is designed for children who turn 4 by September first.
Wednesday Nights and Special Events
On Wednesday nights and Sunday nights the grouping is a bit different due to the fewer number of children in attendance. We provide Nursery and Ones Care in the same room (Room A101). 2's, 3's and 4's are combined on Wednesday nights and Sunday nights in Room A102.
Annual Events for our Preschoolers:
Vacation Bible School is for 4 year olds and for the children of the VBS workers who are birth- 3 years old.
Preschool Easter Egg Hunt
Breakfast with Mother on Mother's Day
Breakfast with Dad on Father's Day

CHILDREN'S MINISTRY (K - 5th Grade)
Children's Ministry Statement:
Our children's ministry is for students in kindergarten through fifth grade. The purpose of our ministry is to partner with parents in loving and teaching their children the truths of God's Word. We desire to lay a Biblical foundation in the lives of these children that will point them to Jesus as the one and only Savior and giver of eternal life. We desire to assist families as they disciple their children to grow in their faith, and to help them guide their children to discover their spiritual gifts and to use them to bring honor and glory to His name.
Children's age Divisions for Sunday School: The Gospel Project Curriculum is used.
Kindergarten, 1st, and 2nd Graders meet in Room A-209.
Third- Fifth Girls meet in Room A-207.
Third- Fifth Boys meet in Room A- 204.
The Sunday school begins at 9:30 a.m., and at 10:15 the children in these ages are led to the Worship Center. The children remain in the music portion of the service. After the music, the children in grades K- 2nd are taken back to Room A-209 for Children's Church. Parents are asked to be prompt in picking up their children after the worship service.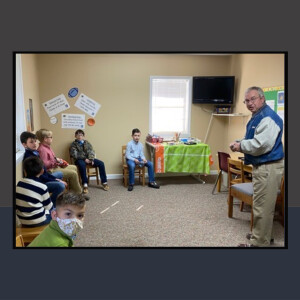 On Wednesday Nights, children ages Kindergarten – 5th grade are signed in by their parents in our choir room (B-101) at 6:30 p.m. The children participate in a time of recreation, and then have Bible time led by Michelle Tootle. Parents are asked to come sign their children out at the close of the Wednesday night service. Usually this program concludes around 7:30 p.m.
On Sunday nights, the children come to the Choir Room (B-101) for a time of choir and missions. This begins at 6:00 p.m., and concludes at 7:00 p.m.
Annual Activities for Children:
Vacation Bible School
Spring Fling
Christmas Play
Breakfast with Mom on Mother's Day
Breakfast with Dad on Father's Day
February- Visiting the Nursing Homes
November- Providing a Thanksgiving Meal for the elderly
Summer VBS Backyard Missions Opportunity
Children's Ministry 2022 Christmas Play: It All Happened in the Country