MEN'S MINISTRY
Mission Statement:
The purpose of this ministry is for the gathering of men to build each other up in faith, to pray for each other's needs, and to encourage each other ".. walk worthy of the calling with which you were called" (Eph. 4:1). The goal of the ministry is to equip each man to:
1) Know God through His Son, Jesus Christ
2) Develop and maintain a personal walk with Him
3) Display his love for others, as Christ loves him
4) Provide a Christian atmosphere and influence for his wife, children, family and friends
5) Help provide accountability for other men

Women's Ministry
Mission Statement:
Leading Ladies to LEARN of GOD… LOVE GOD… and LIVE for GOD.
The Women's Ministry of Eastside Baptist Church encourages ladies to meet together in fellowship, service and friendship in activities such as group Bible studies, events and service/missions opportunities.
YOUNG AT HEART MINISTRY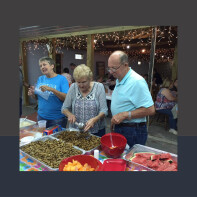 A fellowship of the members of Eastside Baptist Church that are 55 years of age and older. This group meets quarterly and holds a variety of social gatherings. As a time of fellowship, these events often include a meal, entertainment, and local and semi-local travel together.